DURABLE, AFFORDABLE, AND BEAUTIFUL
Brick paver is less prone to cracking than concrete, require very little maintenance, and will continue to look amazing for years or even decades to come. Unlike concrete, if your brick pavers happen to be damaged, you only need to replace the damaged pieces instead of the entire driveway. Plus, because brick pavers can shift when weight is placed on them, they can easily withstand daily foot and vehicle traffic. Best of all, when it comes to brick pavers, your options for colors, shapes, designs, and styles are endless. So, what are you waiting for? Call us today to inquire about brick pavers!
Affordable
Little-to-no maintenance
Easy to replace if needed
Resistant to cracking and staining
Adds curb appeal to any home
BRICK PAVER INSTALLATION IN JACKSONVILLE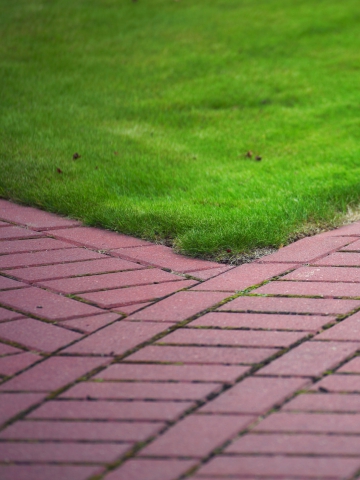 Giving your home the facelift it needs with a material that will last.
Brick pavers are a material that can transform an area while providing it with the durability that you need to ensure it lasts and looks amazing for years to come. Because of its strength and aesthetic appeal, installing a uniquely designed brick paver driveway, walkway, pool deck, or patio can transform both the curb appeal and value of your property — giving you a look that you can be proud of and a quality that you will love.
The resilience of brick pavers come from a myriad of qualities which include abrasion resistance, flexibility, and strength, among others, in a way that allows it to be durable under the pressure of any type of traffic, including cars and trucks. Because of this, it also has the benefit of being a low-maintenance option that can stand up to the intense Florida climate — just another reason why our Jacksonville landscaping customers love including pavers in their landscape design!
Pavers are our material of choice when resurfacing highly populated areas that require a fast turn-around time due to its fast application process and the ability to be used right away, without undergoing a drying period like concrete. In this way, we are able to complete every job with the efficiency and excellence you've grown to expect from us while getting a property enhancement that will stand to impress for years to come.
Brick pavers come in a wide variety of colors, finishes, and shapes, so our landscape design team can help you choose the one that is perfect for you and your property. Whether you want a completely new sidewalk or you are looking to resurface the driveway, our experience, knowledge, and passion for performing every job to our customer's satisfaction will all lend to getting the job done right. Every time.
Contact us today and ask how we can add value to your home with a brick paver design.
"*" indicates required fields
It's about service. It's about quality results and work that is durable and reliable, providing only the best because that's what you deserve. Landscaping is a craft that has been passed down through our generations, see the difference today.
From parks and streetscapes to remodeling to lawn care, we do it all with an excellence that has given us a reputation throughout Florida. Learn more about what we can do for you and get your free quote today.
DON'T TAKE OUR WORD FOR IT
OUR SATISFIED CLIENTS SAY IT ALL
Check out the testimonials from our happy customers below
Our project involved landscaping our backyard after we had a pool installed. We wanted to have a complete makeover to complement our new pool and enclosure. We also needed a new sprinkler system designed and installed for the back yard. George came out to give us an estimate. He listened to our thoughts on what…
When it comes to residential driveways, many homeowners automatically think of traditional asphalt or concrete surfaces. However, there are alternatives available that can not only…
Read More